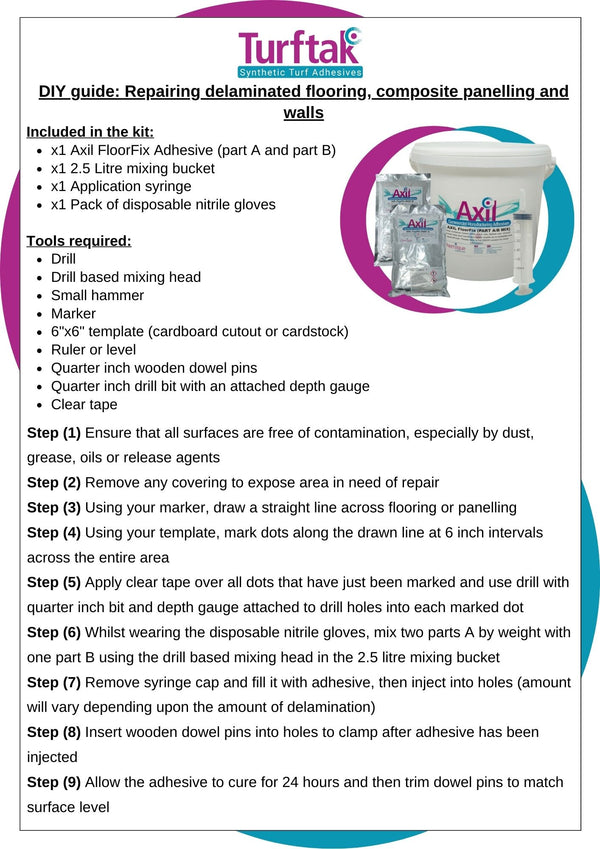 FloorFix RV Delamination Panel Repair Adhesive
Axil FloorFix RV repair adhesive is an industrial strength, two-part epoxy adhesive designed to easily repair spongy RV floors and wall panels that become delaminated. 
Why choose FloorFix Kit?

If you have noticed your RV floor feeling spongy, or your RV walls falling apart or water leaks are occuring, this RV floor repair kit is the solution.
Axil FloorFix RV repair adhesive kit includes a performance grade two-part epoxy bonding system, designed for repairing and reinforcing damaged insulated RV wall panels or composite floors.
Axil Floorfix RV adhesive has been optimized to fix the root causes deep down in the delaminated floor panel and walls by revitalizing its structural integrity. This low-viscosity epoxy adhesive flows effortlessly to fill gaps and voids while bonding and strengthening the delaminated areas of the composite floor panel or wall. Repairing your motorhome using FloorFix adhesive allows you to reinvigorate and replace the panelling or replace RV walls/RV wall panels.
While FloorFix epoxy adhesive is ideal for repairing RV floors, it is also well suited for motorhomes, campers, and travel trailer flooring, sidewall delamination, insulated panels and other applications where a strong, low-viscosity adhesives are required.
If you want to fix your RV delamination or you're looking for Epoxy RV floor repair adhesive, this is the kit you need!

Click here to find out how to use epoxy to repair and RV floor
FloorFix Repair Kit Application Data:
Surface Preparation
All surfaces should be free of contamination by dust, grease, oils or release agents. Cleaning solutions must be allowed to evaporate before application of the adhesive.
Application
Assess the extent of the damage before mixing two parts A with one part B by weight.
Due to the limited pot life only mix the amount immediately required. Clamp or apply weight until cured (24 hours); Pot Life 4oz - 60 mins @ 68°F, elevated temperatures will reduce pot life 1lb - 30 mins @ 68°F, elevated temperatures will reduce pot life.
Inject the adhesive into the damaged area to revitalize structural integrity and reinforce soft spots.
Coverage 
Each kit covers 10 sq.ft to 30 sq. ft depending on extend of delamination damage.


FloorFix Repair Kit Includes:
✔ x1 Axil FloorFix Adhesive (part A and part B)
✔ x1 2.5 Litre mixing bucket 
✔ x1 Application syringe 
✔ x1 Pack of disposable nitrile gloves


FloorFix Technical Data:

Chemical Base: Part A - Epoxy, Part B - Polyamine
Color: Clear Amber
Chemical

 

Resistance: Resistance to water, dilute acids, alkalis, petroleum, oils etc.
Application

 

Temperature: 50°F to 90°F
Viscosity: 500 - 1000 cps @68°F
Specific Gravity: 1.13 - 1.15 @ 68°F
Solids Content: 100% @ 68°F
Flammability: Non-Flammable
Service Temperature:  -4 to 200°F
Cleaning Solvent: Axil 704 (uncured material)
Storage Requirements:
Storage Temperature: Between 40°F and 75°F
Shelf Life: 12 months in unopened containers
Packaging: Part A: 1 quart can, Part B: 0.5 quart can
Mix Ratio: Part A 2:1 Part B by weight