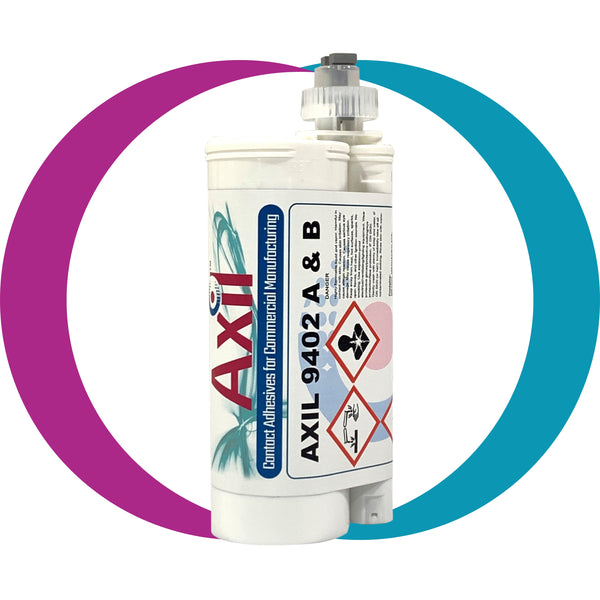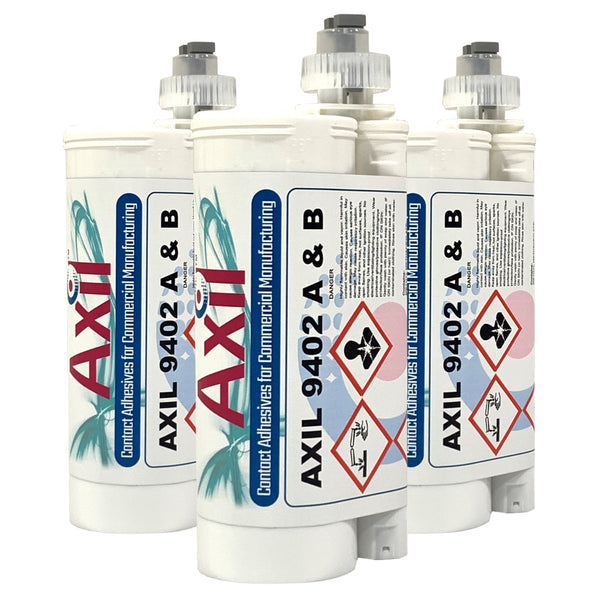 Axil 9402 Two-Component Methacrylate Adhesive
Axil 9402 is a two-part structural methacrylate adhesive, designed for bonding a variety of metals, thermosets, thermoplastics and composite assemblies.
Combined at a 10:1 mix ratio, it is a non-sagging, thixotropic adhesive with high impact resistance, low odor and low shrinkage.
Axil 9402 Two-Component Methacrylate Structural Adhesive:
Axil 9402 two-part methacrylate adhesive is ideally suited for structural use in applications such as Automotive Components, Metal Assembly and Fabrication, Thermoformed Enclosures, Plastic Fabrication.
Axil 9402 methacrylate adhesives can be used to bond a wide variety of substrates including: Fiberglass, PBT, ABS, FRT, Polyurethane, Epoxy, RIM, Nylon, FRP, Polyester, Gelcoats, Styrene, Stainless Steel, Aluminum, and Cold Rolled Steel.  



Axil 9402 Adhesive Technical Data:
Chemical Base: Methyl Methacrylate Adhesive
Viscosity: 160,000 – 200,000
Color: White
Mix Ratio: 10:1
Working Time: 2 – 4 Minutes
Fixture Time: 6 – 8 Minutes
Full Cure: 24 Hours
Shore Hardness: 65D Elongation: 60 – 80%
Performance Temperature: -40°F – 250°F  
Lap Shear Data: (ASTM D1002) Substrates Shear Strength Failure Mode Stainless Steel / Stainless Steel 2,650 - 2,980 psi Cohesive Failure Aluminium / Aluminium 2,300 – 2,755 psi Cohesive Failure ABS / ABS 950 – 1,350 psi Substrate Failure FRP / FRP 900 – 1,850 psi Fiber Tear Aluminium / ABS 1,750 – 2,050 psi Substrate Failure