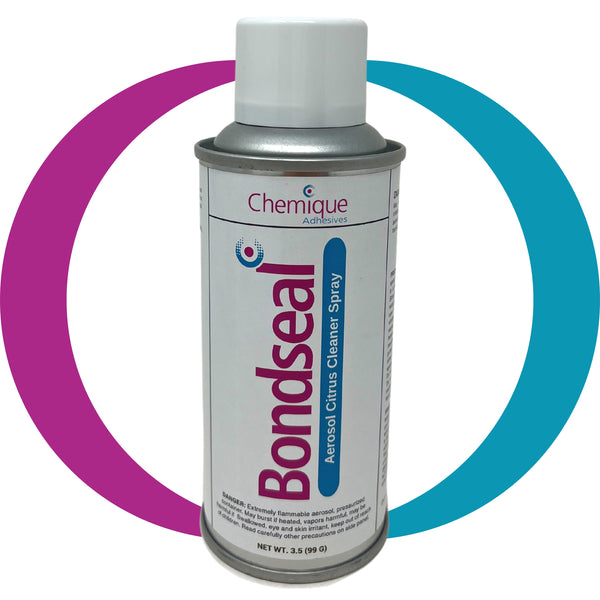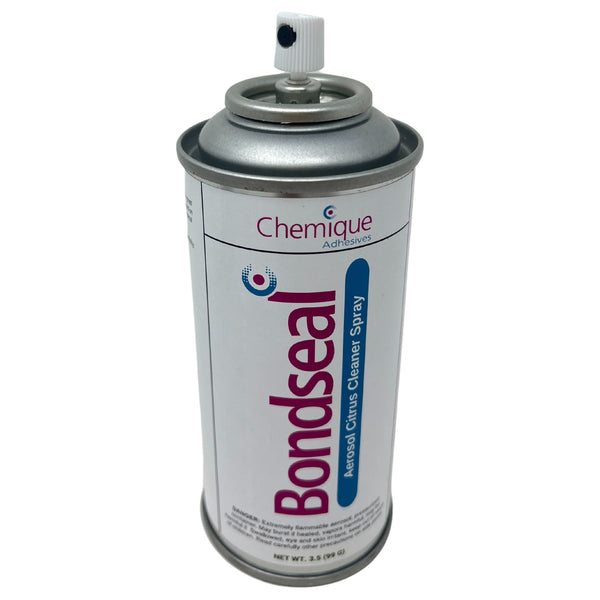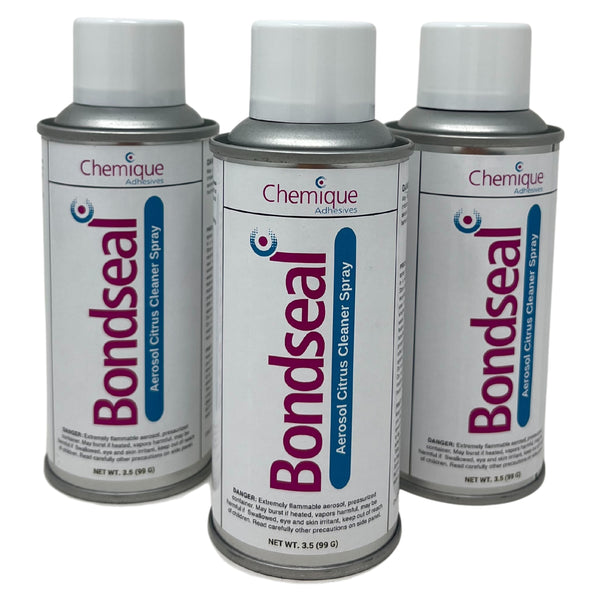 Bondseal Citrus Based Adhesive Remover
Bondseal Citrus Remover is formulated as an industrial, biodegradable but aggressive citrus cleaner and adhesive remover. The aerosol and canister delivery system allows for even controlled application.
It can be used on almost all surfaces and substrates, including fabrics, painted surfaces, glass, porcelain and concrete. It is compatible with some plastics and vinyl, and leaves no oily residue.

Applications & Method of Use
Bondseal's citrus based adhesive remover and cleaner can be used for removing adhesive over spray off of laminate, edge banding, fabrics and a variety of substrates. The cleaner/remover
 is formulated as an industrial grade, biodegradable, natural cleaner and adhesive remover. 

It is not

 safe on all plastics so test on an inconspicuous area for color fastness or discoloration before use.
Apply a generous amount of adhesive remover to substrate (s

pray directly on the surface to be cleaned).

Allow the remover to sit on the surface for a 2-3 minutes. 

If there is heavy dirt or adhesive buildup, use a brush to help penetrate it into the built up adhesive on the substrate. Using a brush will insure a quicker clean up.

Wipe off the residue to finish cleaning the area.
Do not spray
on glue line as this could weaken the bond. 
Spray on cloth when cleaning near glue line of substrate.
Why Choose Bondseal?
✔ Biodegradable
✔ Aggressive Citrus Cleaner
✔ Great to Remove Adhesive Overspray
✔ Easy Spray-on Application 
✔ Good on Painted Surfaces
✔ VOC Compliant 
✔ No Oily Residue
Technical Data
Color: Clear
Storage: Store in a cool, dry and well ventilated area. Do not handle or store near open flame or other heat sources. Recommended to store at 65°F or above. Bulk and canister products should be kept off the floor.
Packaging: 3.5 oz (99g) Aerosol Canister 
Spray Pattern: Mist
VOC Compliant CA/OTC: Yes 
For more information and products from the Bondseal range: