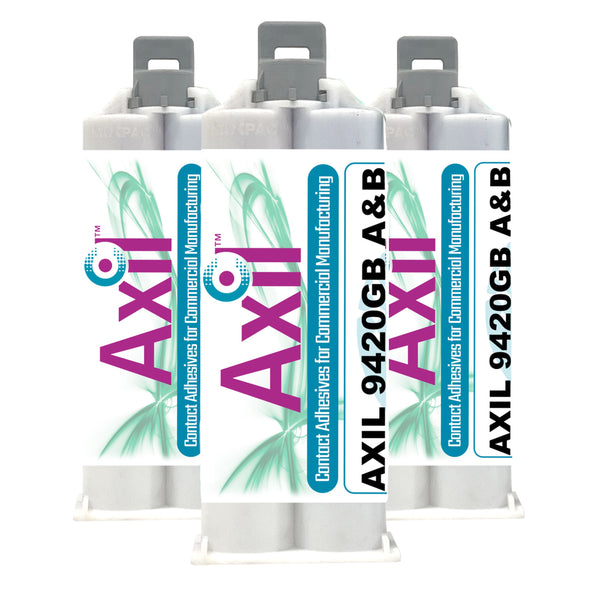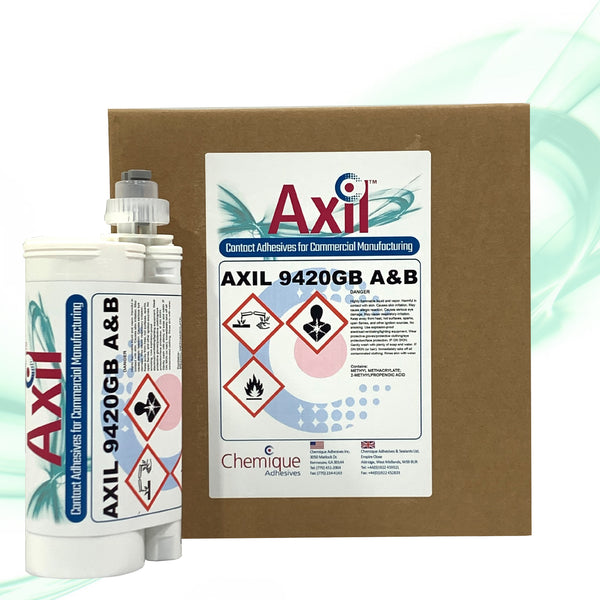 Axil 9420GB Structural Adhesive 
Axil 9420GB is a two-component structural methacrylate adhesive, designed for the bonding a variety of metals, thermosets, thermoplastics and composite assemblies. This adhesive features tiny glass beads within the mixture that act as shims ideal for gap filling and preventing excessive run out when clamped. 

Combined at a 10:1 mix ratio, it is a non-sagging, thixotropic adhesive with high impact resistance, good elongation and excellent water resistance.  
Axil 9402GB Methacrylate Adhesive Application Data:
Bond types - Fiberglass, PBT, ABS, FRT, Polyurethane, Epoxy, RIM, Nylon, FRP, Polyester, Gelcoats, Styrene, Stainless Steel, Aluminium, Cold Rolled Steel
Ideal For:
✔ 
Metal Assembly and Fabrication
✔ 
Thermoformed Enclosures
Axil 9402GB Methacrylate Adhesive Technical Data:
Adhesive Activator Color: Milky White
Viscosity: 100,000 – 125,000 50,000 – 70,000  
Working Time: 4 – 6 minutes
Fixture Time: 15 – 18 minutes
Full Cure: 24 hours