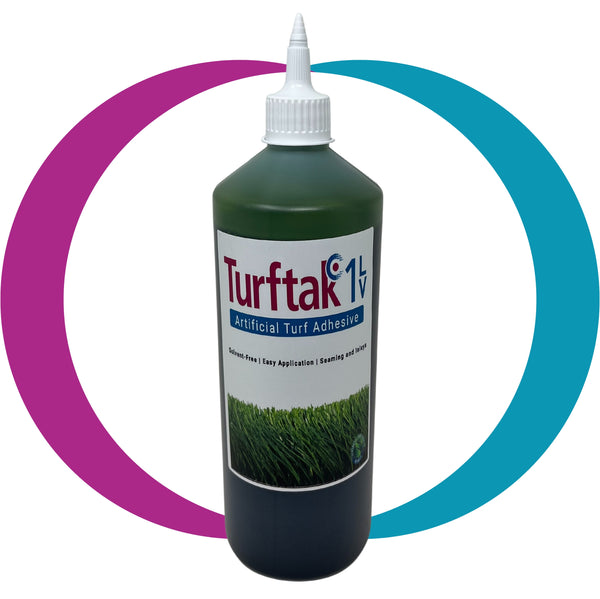 Turftak1 LV Low Viscosity Artificial Turf Installation Adhesive
Developed in conjunction with some of the largest turf installers in the United States, Turftak1 LV solves the problems often associated with traditional turf adhesives in a safe and easy to use product.
Turftak1 LV is a one-component solvent-free synthetic turf adhesive. It's low viscosity allows it to be easily poured from pails, jugs, bottles and effortlessly spreads across turf tapes with a notched trowel.
The 60 minute open-time affords ample time for repositioning should it be required, yet still cures fast enough to increase install efficiency by up to 50% when compared to traditional options.
This performance turf adhesive is compatible with glue boxes, loading with ease for the ultimate effectiveness in install productivity. 

Turftak1 LV Benefits:
✔ Pourable Viscosity
✔ Fast Cure (3-4 hours)
✔ Low Foaming
✔ Low Product Waste
✔ 70-80ft of 12 inch Seams
✔ Trowelable or Glue Box
We also offer a high viscosity adhesive available in 20oz foils suitable for dispensing through battery powered guns, as well as two-part turf adhesive buckets. The Turftak range also includes pre-measured repair and installation kits that include turf adhesive, seam tape and notched trowels. To view the full range of artificial turf adhesives click here.
Turftak1 LV Technical Data:
Chemical Base: Polyurethane
Viscosity: 4000-6500 cps at 68°F
Specific Gravity: 1.1-1.2 at 68°F
Solids: 100%
Service Temperature: -40°F to +248°F
Color: Green
Chemical Resistance: Resistant to water, dilute acids, alkalis and aliphatic oils
Open Time:

0.5 hours at 86°F (30°C) | 1 hour at 68°F (20°C)

Handling Time: 

1 - 2 hours at 86°F (30°C) | 2 - 4 hours at 68°F (20°C)

Cure Time: 3 - 4 hours at 86°F (30°C) | 6 - 8 hours at 68°F (20°C)
Application Temperature: 50°F to 86°F
Storage Temperature: 50°F to 77°F. Lower temperatures can cause permanent damage to product
Shelf Life: 12 months in unopened container
Packaging: 16fl oz Poly Bottle and 1.3 Gallon Poly Jug