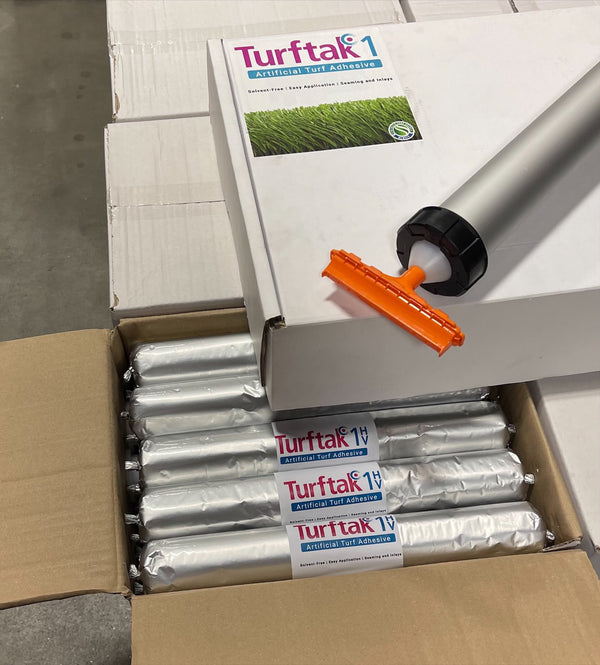 Turftak1 HV High Viscosity Artificial Turf Adhesive
We are now offering our industry leading one-part synthetic turf adhesive in 600ml/20oz sausages, which is twice the size of a standard cartridge. This high viscosity adhesive is made for dispensing straight out or through a 4" rake head spreader nozzles with a manual or battery powered sausage gun.
Turftak1 is a solvent-free, polyurethane adhesive formulated for the seaming of turf tape used in the laying of artificial and synthetic grass sheets.
Extremely popular with synthetic turf installers for it's easy use, this one-part polyurethane adhesive meets and exceeds industrial standards in a new climate of environmental awareness.
Turftak1 artificial turf adhesive exhibits a thixotropic nature which helps to gap fill slight voids between substrates while remaining easy to apply with a notched trowel. Upon completion of cure, Turftak1 adhesive produces a low foaming elastomer which is key to producing a strong yet flexible bond. 
This quick method of application provides neat and tidy finished, with 20-22 foot of seam tape coverage.
Click here to watch how to install artificial turf using Turftak1 HV adhesive!
Why Choose Turftak1 HV?
✔ Low Product Waste
✔ No Foaming 
✔ Small Job Convenience
✔ Super High Initial Grab
✔ Sets up Overnight
✔ Multi-Bead Options
✔ Powered Dispensing 
Turftak1 High Viscosity Adhesive Technical Data:
Chemical Base: Polyurethane

Color: Black
Cure Rate: Within 24 hours at 68°F
Shelf life: 12 months in unopened container
Viscosity: 30000 - 100000 cps at 68°F
Specific Gravity: 1.30 – 1.50 at 68°F
Flammability: Non-Flash Point
Service Temperature: -40°F to 248°F
Chemical Resistance: Resistant to water, dilute acids, alkalis and aliphatic oils.
We also offer a pourable low viscosity turf adhesive as well as a one-part portable bags and two-part buckets. To view the full range of artificial turf adhesives click here.