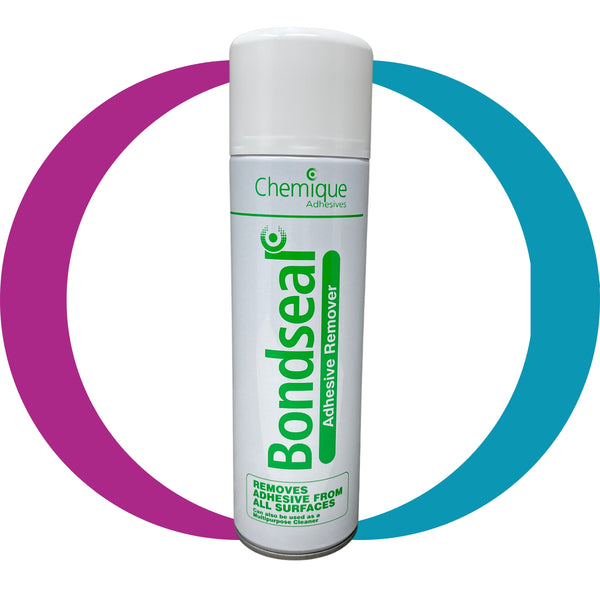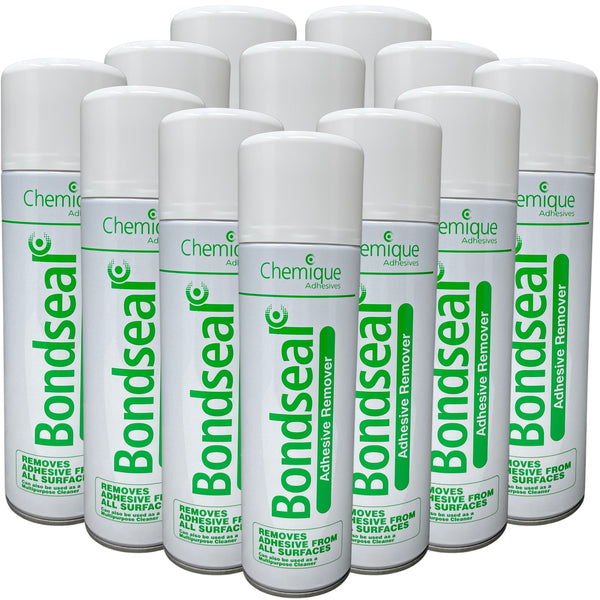 Bondseal Industrial Strength Adhesive Remover
The Bondseal Spray Remover comes in a handy 16.9 floz (500ml) aerosol or a 17kg sprayable container.  It is a blend of ingredients designed to remove excess amounts of adhesive from a variety of surfaces, its powerful action breaks down adhesives and dissolves them into a solution which can be easily removed.
Bondseal Adhesive Remover Applications:
The Bondseal Spray mixes readily with most organic materials, this makes it ideal for removing many forms of soiling resulting from spillages where adhesive, grease or oil base products are part of the liquid spilt. 
The Bondseal Spray is ideal for use on hard surfaces such as metal, paintwork, glass, rubber, and most plastics; and soft surfaces such as carpets, curtains, blinds, etc.  It is also excellent for cleaning canister adhesive hoses and guns prior to re-use.
Why Choose Bondseal Adhesive Remover?
✔ Portable (500ml aerosol spray)
✔ Easy to use (simply spray and wipe off) 
✔ Doesn't contain environment/ozone damaging materials 
How to Use Spray Adhesive Remover
Surface Cleaning:
Test on a small unobtrusive area to ensure stability prior to undertaking the cleaning operation. Spray directly onto affected area and allow to work. Remove with a clean, dry cloth or alternatively it can be sprayed onto a cloth and wiped over affected area. Any remaining solvent cleaner will then evaporate leaving no residue.
Heath and Safety:
Users should wear the appropriate PPE recommended in the SDS.
Browse all aerosol products:
Read the ultimate guide to spray adhesives here.