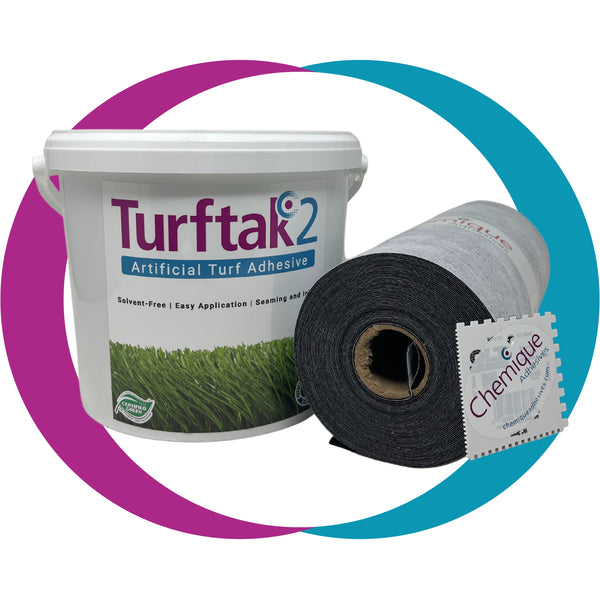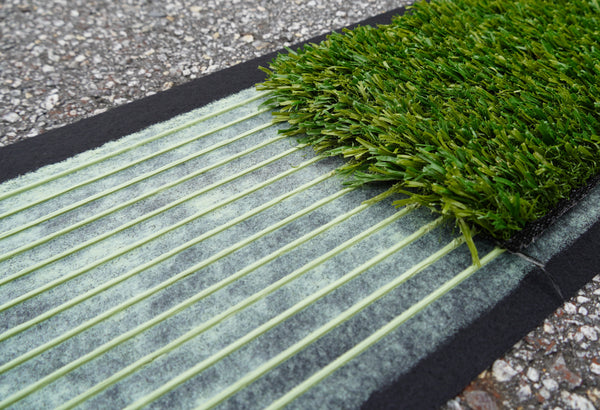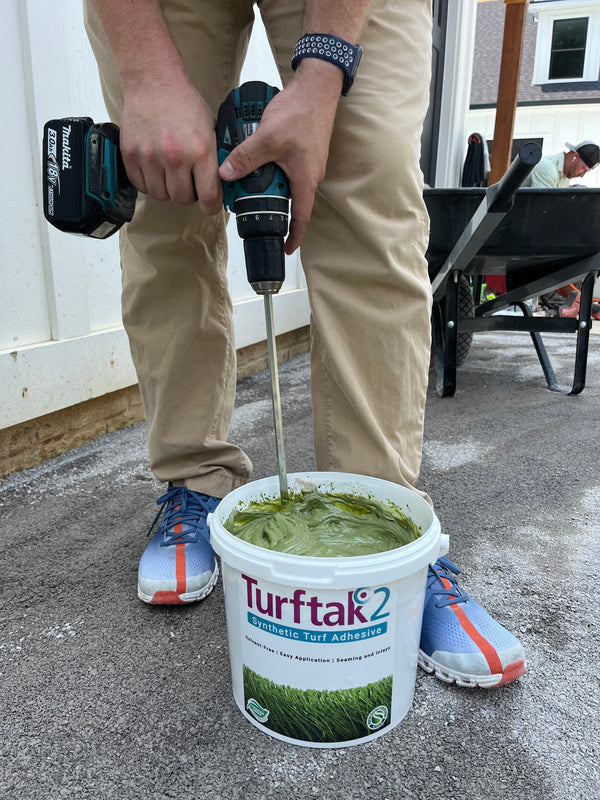 Turftak2 Two-Part Artificial Turf Install Kit
Turftak2 Installation Kit was developed to quickly and efficiently install synthetic turf for large projects, while providing long lasting and proven results - everything you need for the perfect turf install in one place!
The Turftak2 installation kit includes our two-part artificial turf adhesive, a plastic notched trowel, and synthetic turf tape with up to 50ft of 12inch seams.
Turftak2 is a solvent-free, two-part polyurethane adhesive that consists of a paste and fluid hardener which, when mixed, creates a uniform green colored adhesive that blends in with the turf sheets. Both parts are conveniently packed to allow for simple, yet accurate mixing.
Instructions For Use:
Simply pour the uniformly mixed adhesive evenly onto seam tape using a notched or glue box.

Once seams are sealed, simply tread the seams with no need for weighted bagging.
Upon completion of cure, Turftak2 two-part adhesive produces an ultra low foaming elastomer which is key to producing a strong yet flexible bond. 
Whether you are a seasoned installer or working on a back yard project, choose the synthetic turf adhesive the professionals trust - Turftak!

Why Choose Turftak2?
✔ Flexible
✔ Solvent-Free
✔ Great for Larger Jobs
✔ 50ft of 12inch Seams
✔ Quick & Convenient 


Turftak2 Two-Part Kit includes:
1 - One Gallon Two-Part Turf Adhesive

1 - 50ft Roll of Turf Seaming Tape

1 - Plastic Notched Trowel
To browse all other Turftak artificial turf install and repair kits, click here.
Technical Data:
Chemical Base:

Polyurethane

Viscosity:

Part A

: 250000 - 400000 cps at 68°F |

Part B

: 300 - 600 cps at 68°F

Specific Gravity:

Part A

: 1.60 - 1.70 at

68°F

|

Part B

: 1.15 - 1.25 at 

68°F

Solids Content: 100%

Flammability: 

Non-Flash Point

Service Temperature:

 -40°F to 248°F

Color: 

Green when mixed

Cure Time: 

3 hours at 86

°F 

| 6 hours at 

68°F 

Chemical Resistance: 

Resistant to water, dilute acids, alkalis and aliphatic oils

Shelf Life:

12

 months in unopened container

Packaging: 

1 Gallon (11.6lbs)
For smaller projects, Turftak's Artificial Turf Install Kit is ideal - check it out here!