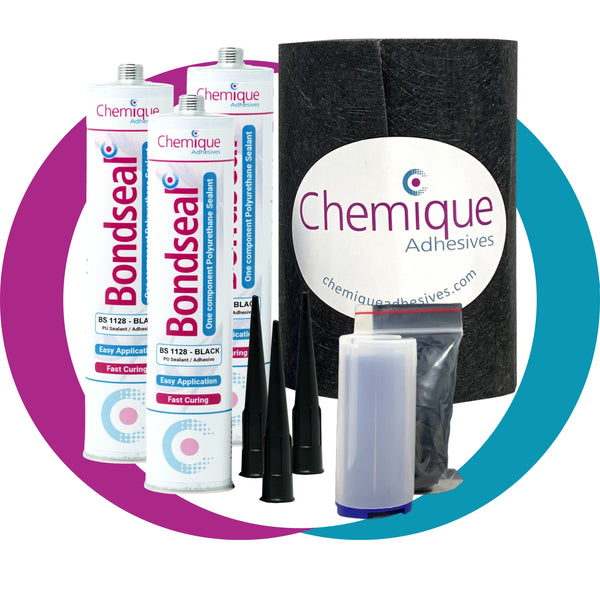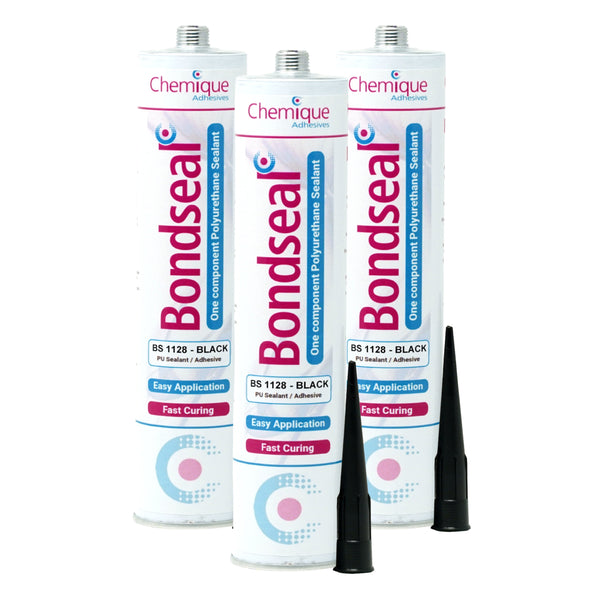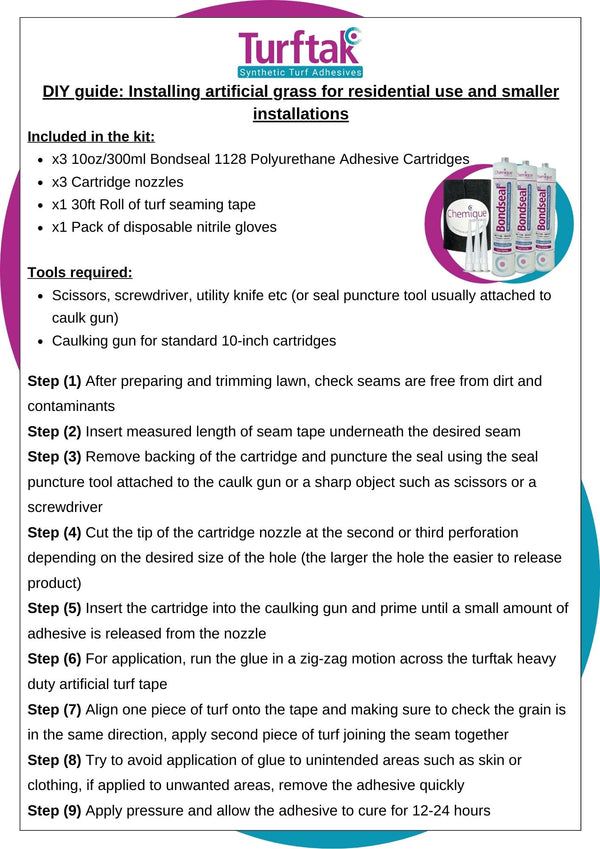 Turftak Artificial Turf Install Kit
The Turftak Install kit was developed from the need to quickly and efficiently install synthetic turf while providing long lasting and proven results - everything you need for the perfect turf install in one place!
This turf installation kit includes Chemique's popular Bondseal 1128 adhesive: a high-quality one component polyurethane adhesive/sealant with a high modulus designed to work on a wide range of turf products and application tapes. 
Bondseal 1128 has an advanced rheology making it easy to apply with a standard caulking gun, but with an excellent slump resistance.
The modified curing system means Bondseal 1128 has an exceptionally low isocyanate content. Also included are three cartridge nozzles and a single 30ft roll of turf bonding and seaming tape. For larger installations, Turftak's large kit provides 40ft of coverage with it's ultra low foaming one-part polyurethane, in a resealable and pourable 1 gallon bag.
To watch the how-to turf installation video click here: https://www.youtube.com/watch?v=hAqIgr9SKKk
To read our "How-To Install Guide" click here 
To download our "How-To Install Guide" click here
Turftak Turf Install Kit Benefits:
✔ Clean and easy application
✔  Solvent-Free
✔ Provides lasting and proven results
Turftak Turf Install Kit includes:
3 - 300ml Bondseal 1128 Polyurethane Adhesive Cartridges
3 - Cartridge Nozzles
1 - 30ft Roll of Turf Seaming Tape
1 - Pack of disposable nitrile gloves
Turftak Turf Install Kit Application Data:
Application is quick and easy! 
Simply roll out your seaming tape, install a nozzle on the adhesive cartridge and load the cartridge into a caulking gun, dispense the adhesive across the seaming tape.
Lastly, join the edges of your turf at the center line of the turf seaming tape, pressing down to wet-out the adhesive underneath.
To browse all other Turftak artificial turf install and repair kits, click here.
Turftak Install Kit Technical Data:
Chemical Base: Polyurethane
Color: Black
Viscosity: Paste
Shelf

 

Life: 12 Months in Unopened Container
Elongation At Break: >550%

Hardness: 30 - 45 Shore A
Curing System: Moisture Cure

Cure Rate: 3mm/24 Hours at 68°F and 65% RH
Skin Formation: 45 Minutes
Service Temperature: -40°F to 248°F

Chemical Resistance: Resistance to water, dilute acids, alkalis and aliphatic oils
Storage Temperature: Between 50°F and 77°F. Lower temperatures can cause permanent damage to the product