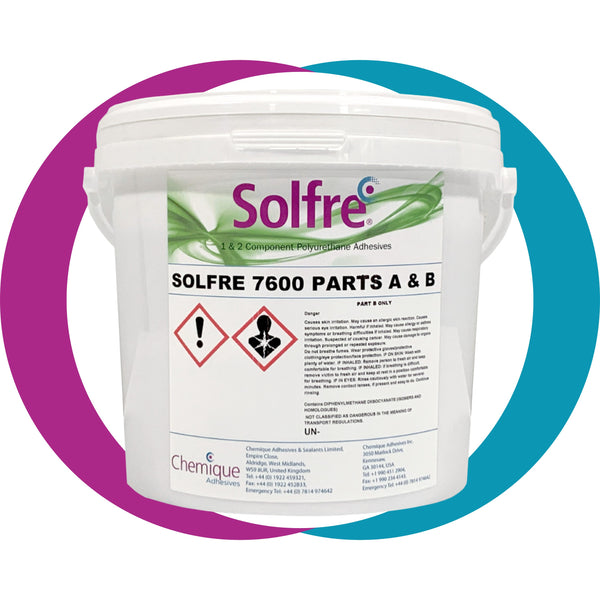 Solfre 7600 Honeycomb Panel Adhesive
Solfre 7600 is a panel bonding adhesive that is part of a wide range of polyurethane adhesive solutions that meet and exceed the increasing industrial standards in a new climate of environmental awareness.
Solfre 7600 adhesive has been developed as a slow curing, thixotropic, easy-to-apply adhesive for bonding honeycomb panels or composite materials requiring high performance from a manually applied adhesive.  
Solfre 7600 Adhesive Applications:
The exceptional adhesion of Solfre 7600 to metallic substrates has proved a real advantage to users, giving them, a level of adhesion only normally associated with epoxy adhesives. This, together with the flexibility and application techniques of polyurethane adhesives has found use in manufacturing metal cladding panels, and even in the most stringent applications such as structural aluminium honeycomb panels.
Solfre 7600 Technical Data:



Chemical Base: Polyurethane
Viscosity: Part A - Thixotropic Paste, Part B: 20000 - 30000 cps at 68°F, 150 - 250 cps at 68°F
Solids Content: 100%
Flammability: Non-flashpoint
Color: Part A- Beige, Part B- Yellow, Mixed- Beige
Chemical Resistance: Resistant to water, dilute acids, alkalis and aliphatic oils
Cure Rate: Approximately 6 hours at 68°F
Pot Life: 45 - 60 minutes at 68°F
Working Time: 90 Minutes
Packaging: 11lb kit
Shelf Life: 6 months in unopened container