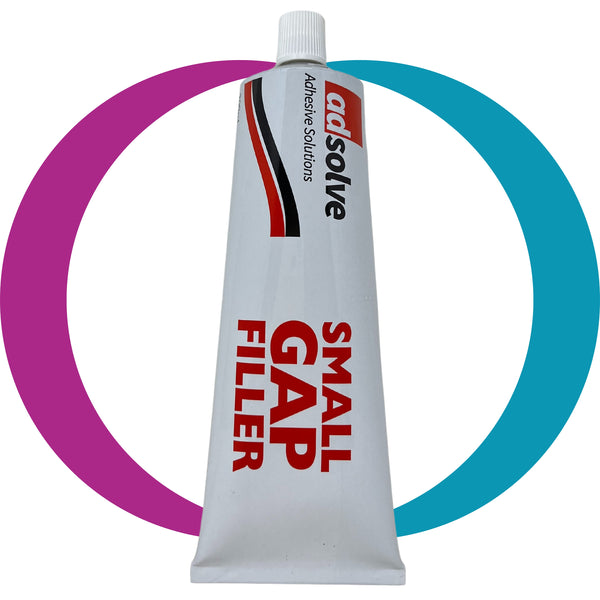 Small Gap Filler 
Adsolve panel gap filler is ideal for use filling any small gaps or voids. It is a low viscosity, high solid, low slumping, thixotropic gap filler, adhesive and sealant. The filler is a solvent resin polymer system and is ideal for use within the cleanroom and PVCu window glazing industries. 
It contains a unique combination of PVC resins that cure by solvent evaporation to leave a smooth polymer surface with no micropores, which allows simple and effective cleaning and provides a homogeneous surface.

The finished joint gives the right degree of hardness to provide good protection and resistance to damage, whilst retaining some flexibility. It gives excellent adhesion to coated metals, polycarbonate and many other plastics, as well as and many other common construction substrates.
Available in 6oz (200ml) aluminum tubes.
✔ Color Fast
✔ Excellent weathering
✔ Mechanical strength
✔ Chemical resistance
✔ UV properties
Panel Gap Filler Application Data:
Surfaces must be sound, clean and dry.
Gun the sealant firmly into the joint.
The sealant may be tooled using a wet spatula.
Tack free in approx. 5 minutes and fully cured in 1 to 2 days depending on joint dimensions.
Remove any surplus material immediately using commercial solvent.

 
Panel Gap Filler Storage Data:
Shelf life: 18 month shelf life for 6oz (200ml) aluminium tubes.
Shelf life accurate when stored at a temperature between 41°F and 77°F in original unopened packaging. 
Product may gel should adequate temperature not be maintained. 
Store in cool, dry, frost free environments.
Once the tube has been opened, the product must be used as soon as possible.

PVC is inherently food safe, does not outgas or particulate, is odourless (once cured).

When looking for the best adhesive for aluminum composite panel production, many manufacturers have to look for solutions that go beyond traditional adhesion methods. Chemique provides an extensive range of ground breaking sandwich panel adhesives and applications methods to tackle even the most demanding substrates including engineered wood, aluminum, and fiberglass often found in sandwich panels, structural insulated panels, fiberglass reinforced panels (FRP), aluminum honeycomb panels, and many more.
Browse our extensive collection of adhesives for composites or request a free consult from one of our adhesive experts through our contact us page.