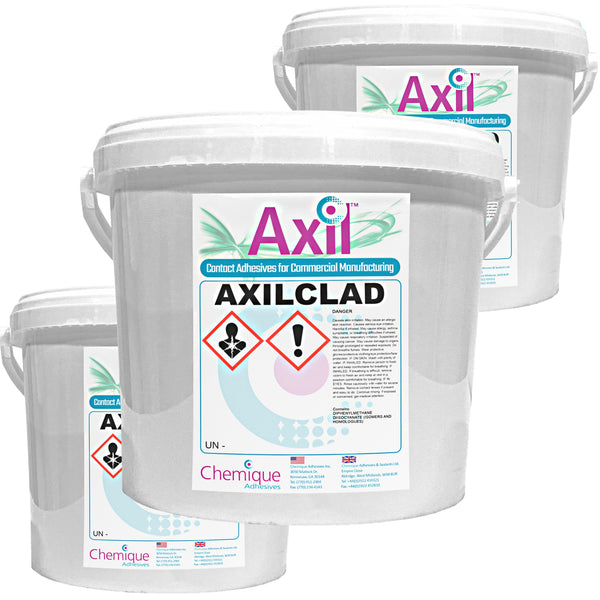 Axilclad uPVC Cladding Adhesive
1.3 gallon bucket
Designed for use with uPVC cladding, Axilclad is a two-component adhesive that's easy to use and provides the lasting and trusted results you expect from Chemique's performance-grade adhesives. Axilclad polyurethane adhesives are solvent-free, meeting the exacting industrial standards in a new climate of environmental awareness.
This adhesive was specifically developed for bonding uPVC sheets for on site applications. Once mixed the two part adhesive forms a reactive thermosetting polymer with excellent adhesion and good flexibility. This cladding installation adhesive is precision formulated to provide an extremely strong yet flexible bond, allowing for simple application on-site. Axilclad has many varied applications, although the most popular use is for bonding cladding panels & uPVC laminates to internal walls in the cladding industry. 
Axilclad uPVC Cladding Adhesive Technical Data:
Chemical Base: Polyurethane
Viscosity: Part A: 250000 - 400000 cps at 68°F Part B: 300 - 600 cps at 68°F
Solids Content: 100%
Flammability: Non-flashpoint 
Color: Part A: Beige Part B: Dark Brown
Chemical Resistance: Resistant to water, dilute acids, alkalis and aliphatic oils
Cure Rate: Approximately 4 - 6 hours at 68°F
Pot Life: 45 - 60 minutes at 68°F
Packaging: 14lb kit
Shelf Life: 9 months in unopened container  
Axilclad uPVC Cladding Adhesive Application Data:
Application Temperature: 50°F to 86°F
Storage Temperature: 50°F to 77°F
Lower temperatures can cause permanent damage to product
Service Temperature: -4°F to 248°F
Coverage: A 14lb kit will bond 32ft² of uPVC panelling depending on the porosity and uniformity of the base substrate
Only one substrate requires coating with Axilclad, normally the uPVC Bonding Range and Pressure Axilclad is supplied as a pre-weighed kit. The two components are contrasting colors to provide a visual indication of adequate mixing prior to application.
The adhesive is conveniently packed with sufficient ullage in the Part A container to mix the whole pack,The Part B is packed in the exact proportion to allow for simple yet accurate mixing.