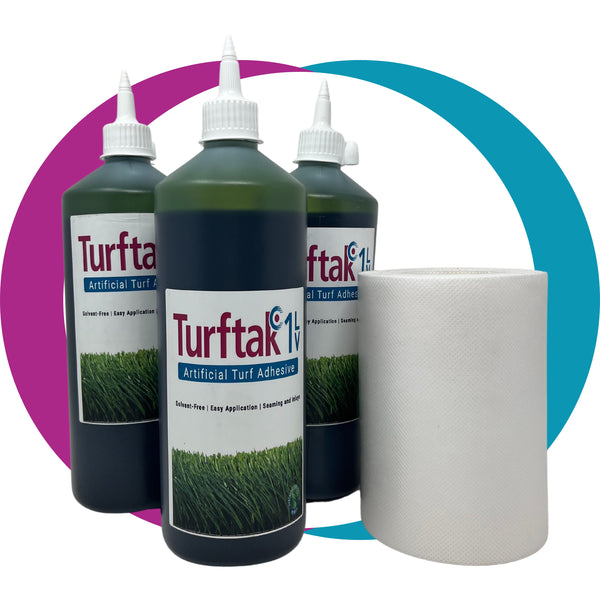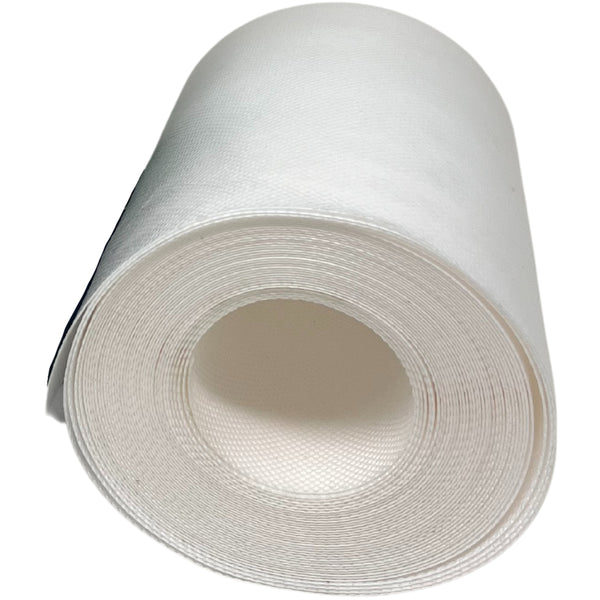 Turftak LV Artificial Turf Install Kit
The Turftak1 Low Viscosity Installation Kit was developed from the need to quickly and efficiently install synthetic turf, while providing long lasting and proven results with up to 50ft of 12inch seams.
Included in the kit are x3 easy pour bottles of Turftak1 LV, a solvent-free polyurethane artificial turf adhesive. The one-component adhesive easily pours from convenient squeeze bottles and effortlessly spreads across seam tapes.
The 60 minute open-time affords ample time for repositioning should it be required, yet still cures fast enough to increase install efficiency by up to 50% when compared to traditional options. Choosing a low viscosity adhesive achieves improved application, as the thinner consistency makes them easier to apply, faster to cure, and superior in bonding as the glue better penetrates small gaps and surface irregularities. 
Simply spread the green color-matched adhesive across tape with a traditional notched trowel or glue box and tread seams for fast and effective bonding. Unused contents can even be re-capped and re-used.

Why Choose Turftak1 LV Install Kit?
✔ Pourable
✔ Faster Curing Speed
✔ Low Foaming 
✔ Solvent-Free
✔ 50ft of 12inch Seams


Turftak1 LV Install Kit includes:
1 - 3 Quart Poly Bottles Low Viscosity Turf Adhesive

1 - 50ft Roll of White Turf Seam Tape

1 - Plastic Notched Trowel
Application:

Application is quick and easy! 

Simply roll out your seaming tape, open the turf adhesive bottle and pour the adhesive across the tape.
Join the edges of your turf at the center line of the turf seaming tape, pressing down to wet-out the adhesive underneath.
Re-cap unused contents. No need to apply weighted bags, simply walk the seams and leave to cure.
To browse all other Turftak artificial turf install and repair kits, click here.
Turftak1 LV Technical Data:
Chemical Base: Polyurethane
Viscosity: 4000-6500 cps at 68°F
Specific

 

Gravity: 1.1-1.2 at 68°F
Solids: 100%
Service

 

Temperature: -40°F to +248°F
Color: Green
Chemical

 

Resistance: Resistant to water, dilute acids, alkalis and aliphatic oils
Open

 

Time:

 

0.5 hours at 86°F (30°C) | 1 hour at 68°F (20°C)

Handling Time: 

1 - 2 hours at 86°F (30°C) | 2 - 4 hours at 68°F (20°C)

Cure Time: 3 - 4 hours at 86°F (30°C) | 6 - 8 hours at 68°F (20°C)
Application

 

Temperature: 50°F to 86°F
Storage

 

Temperature: 50°F to 77°F. Lower temperatures can cause permanent damage to product
Shelf

 

Life: 12 months in unopened container
Packaging: x3 16fl oz poly bottles
For smaller projects, Turftak's Artificial Turf Install Kit is ideal. For larger projects, where a two-part adhesive is required, check out Turftak2 Two-Part Install Kit. For minor repairs, shop Turftak Quik-Fix Repair Kit.