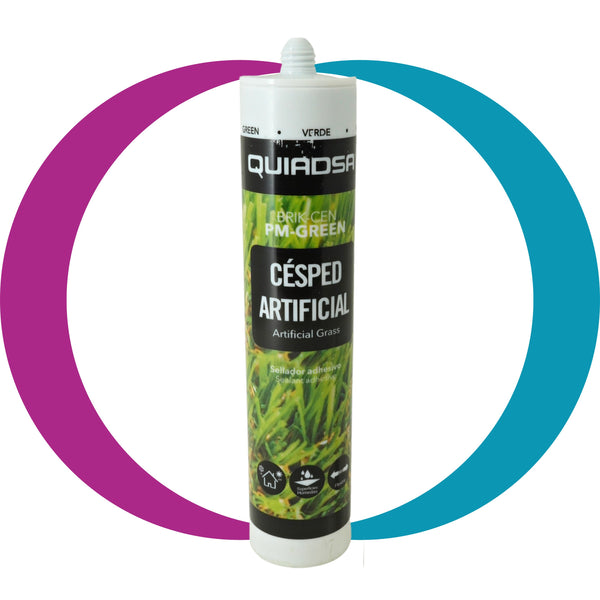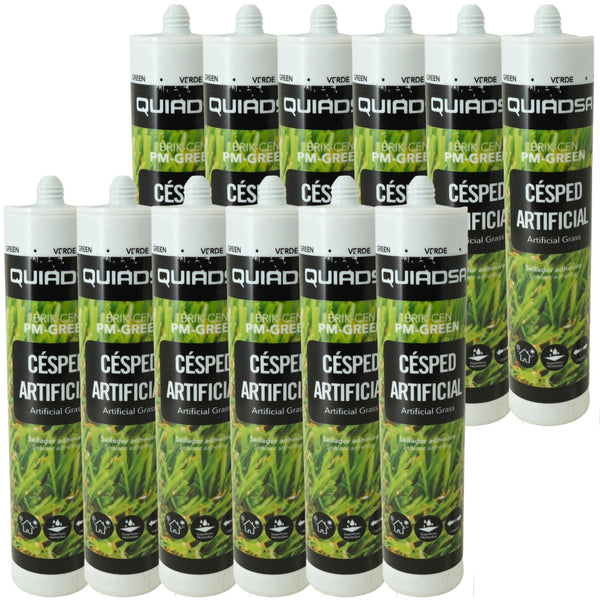 Quiadsa Green Artifical Turf Adhesive
1 case = x12 290ml cartridges
Quiadsa PM-Green is an industrial grade, one-component modified silane polymer turf adhesive ideal for the bonding of seam tape used in the laying of artificial and synthetic grass sheets.
Developed for the most demanding indoor and outdoor turf applications, this high-resistance formula is excels in areas including: aging and weathering resistance, ultra-violet (UV) radiation resistance, low-odor, non-shrinking, non-yellowing, paintability and permanent elasticity.   
Quiadsa provides elastic, high resistance fixing and sealing strength, ideal for joints and finishing touches of astro turf and artificial grass rolls. The product also flawlessly adheres artificial grass to concrete, can be overpainted when wet and can be applied to wet surfaces as well as under water.
Quiadsa Green Artificial Turf Adhesive Technical Data:
Chemical Base: Modified Silane Polymer
Viscosity: Paste
Elongation at Break: >375%
Shore Hardness: 40 Shore A
Service

 

Temperature: -40°F to 248°F
Cure Type: Moisture Cure
Cure Rate: 3mm/24 hours at 68°F and 65%

RH Skin Formation: 30 Minutes
Color: Green
Shelf Life: 18 months in unopened container
Coverage: Approximately 12 meters of 5mm diameter bead for a 290ml cartridge
Packaging: x1- 290ml cartridge